About us
The ELSTILA brand was created in 1994. After twenty-five years of experience, the company has gained the trust of business partners and gained recognition in the Lithuanian market. Today, it is one of the largest and leading electrotechnical wholesale and retail companies in Lithuania, providing the highest level of services, constantly investing in even higher quality of electrotechnical production and customer service. At present JSC "Elstila" has offices in Kaunas, Klaipėda and Vilnius, and a new logistics center has been opened in Kaunas, which meets today's requirements and satisfies the needs of the company and its customers. The company's network of representatives is spread all over Lithuania.
The vision of the company - to be a leader in the field of electrical products supply.
The mission of the company - quality, safety and reliability.
HISTORY IN BRIEF
1994 - JSC "Elstila" starts its operations - the first electrical goods store opened its doors in Kaunas.
1995 - Branches established in Vilnius and Klaipėda.
1997 - New spacious warehouses for goods were installed in Klaipėda.
1999 - Technical office opened in Kaunas.
2002 - Kaunas Technical Office and Administration moved to new premises.
2007 - Klaipėda branch store moved to new premises.
2011 - Vilnius branch store moved to new premises.
2011 - New e-commerce website launched.
2017 - Klaipėda branch store moved to new premises.
2018 - New logistics warehouse opened in Kaunas.
OPERATIONAL STRATEGY
The Company's business strategy focuses on high-quality customer service and business development with the following main objectives:
• increase the company's competitive advantage,
• ensure efficient operation of the company,
• focus on cutting-edge electrical production,
• Increase the value of the company by investing in innovative products.
Dozens of companies supply electrotechnical production in Lithuania. Our priority is innovative activities based on the acquisition of the most advanced electrical goods and knowledge. The products we supply are needed by both the business and the ordinary citizen. We are not afraid of challenges - unconventional access to a customer problem and its solution is our daily routine. We offer our customers only the most advanced electrical products that meet international quality standards. The wide assortment of goods and favorable conditions for the purchase of goods make it possible to meet the needs of various sectors of the national economy: energy, industry, construction, repair, street lighting, and help to find the most suitable solution for both the discerning and appreciating simplicity of the customer.
VALUES
Values ​​are the foundation of our root. In business, time-tested and unchanging values ​​are the most important to us:
• Quality,
• Security,
• Reliability.
The strength of our company is its teamwork, effective cooperation, high work culture. Our strength is our experienced staff whose ideas, technical knowledge, cooperation with experienced and innovative partners allow us to realize the most ambitious projects. In all its activities, the company follows the principle of high quality of work and thus invests in the trust of its customers. Currently, the company has about 1.5 thousand regular customers, including many large companies successfully established in the Lithuanian market. We have gained the recognition and trust of our business partners - manufacturers: we are official trade partners of more than 50 manufacturers in Lithuania.
We appreciate and welcome every customer.
If you are our customer, we invite you to openly evaluate our services and make suggestions for their improvement.
If you are not yet our customer, we invite you to join - we will be happy to meet your needs.
After all, ELSTILA products are the perfect combination of quality and price.

ELSTILA goods – a perfect combination of quality and price. Thus we suggest trying electrotechnic products presented by ELSTILA. Because it's your style.

Contact us and we will not disappoint you!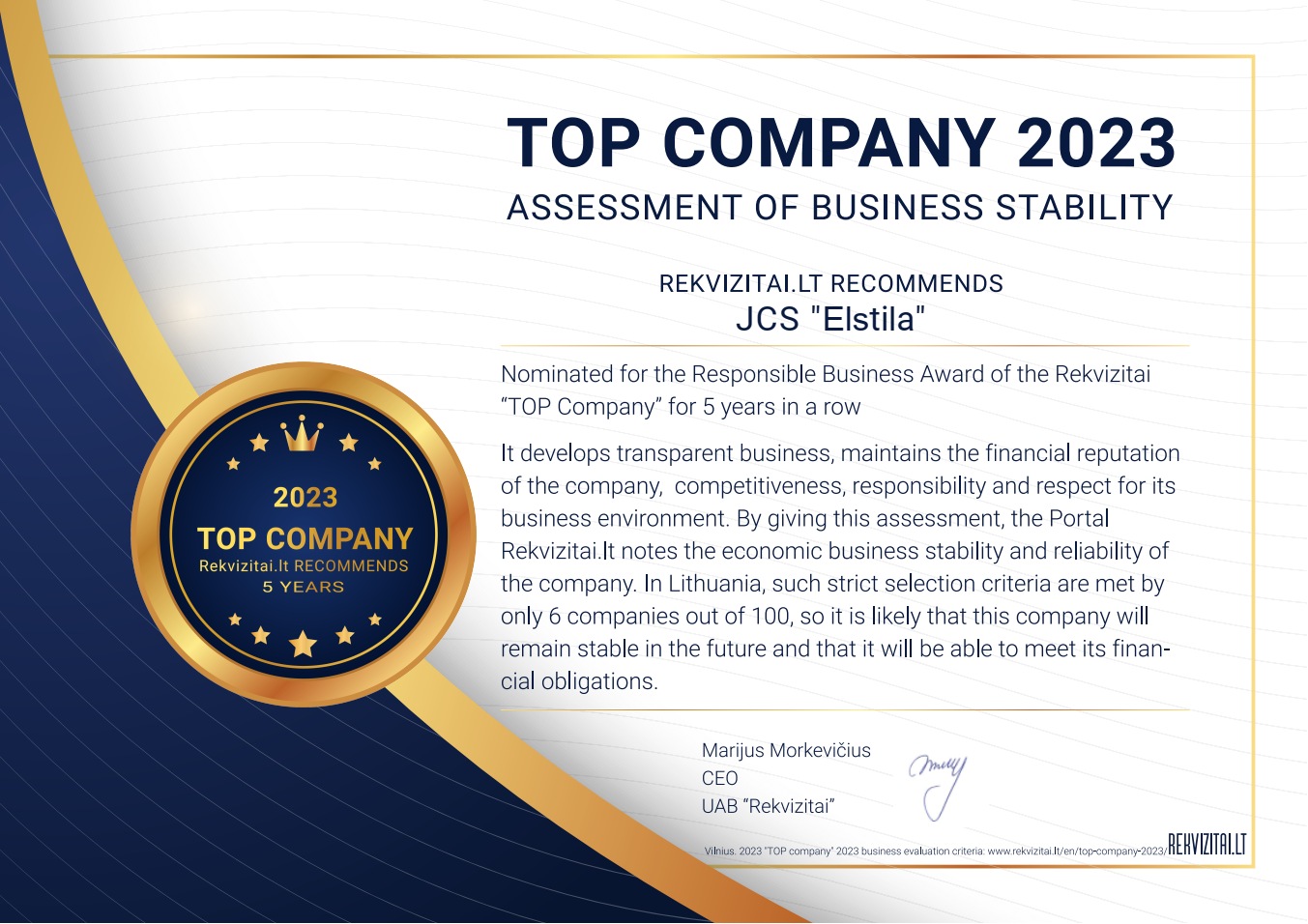 2019:
2023:
2018:
2017:
2016:
2015:
2014:
2013: